Few markets in the United States are as competitive as Kansas City for hosting a private cloud. Kansas City's home state of Missouri is home to over 100,000 technology experts (p. 2). Its Midwestern location, generous Missouri state government subsidies, and competitive cloud IT industry has transformed Kansas City into one of the most attractive markets to host a private cloud.
ZebraHost calls Kansas City home to its flagship data center. Kansas City's competitive data center market along without value-packed private clouds provides exceptional value for any business seeking privacy, flexibility, security, and affordability. For those in the market for private cloud infrastructure, here are the main reasons you should consider a Kansas city private cloud.
About Kansas City Missouri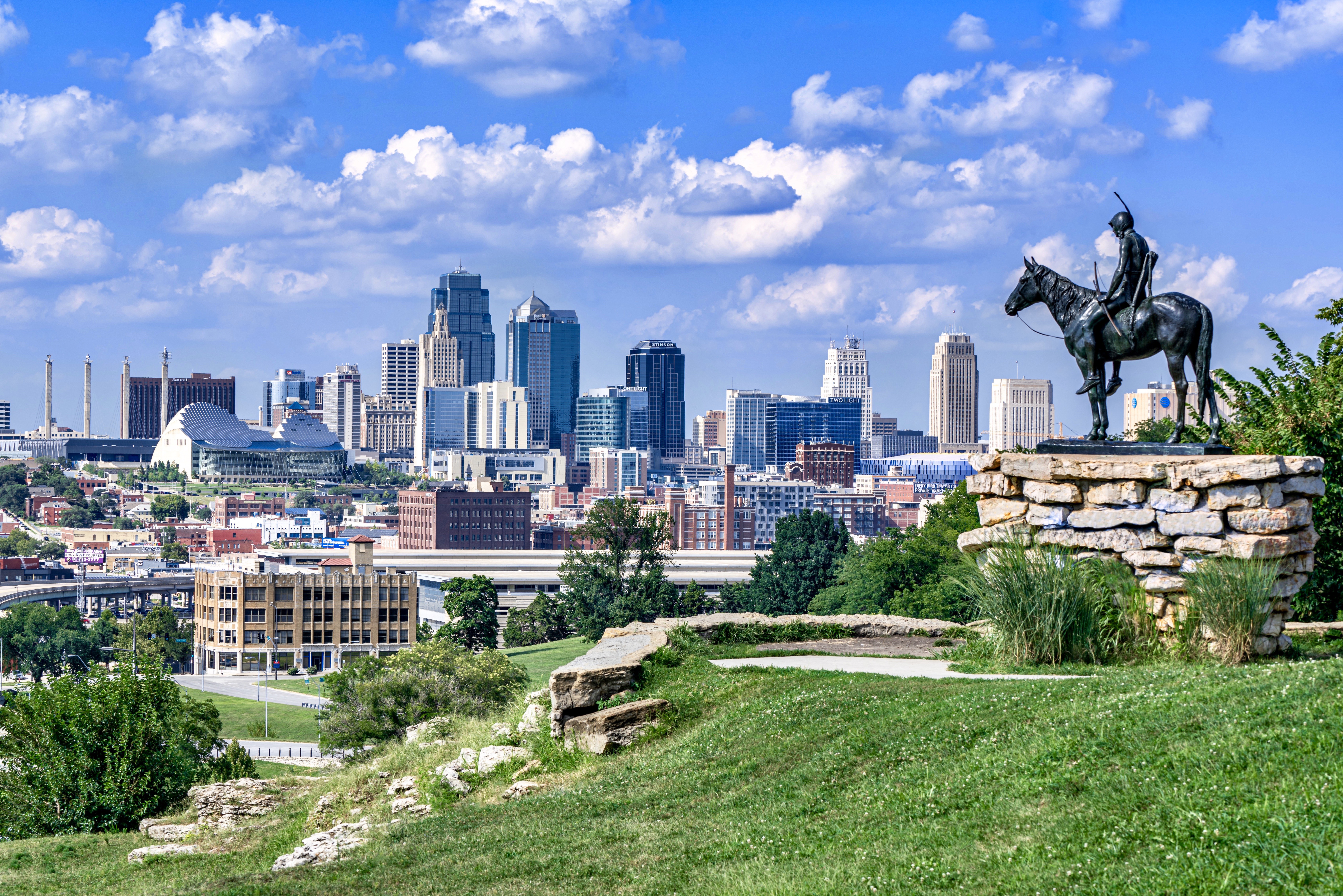 Kansas City is the largest city in Kansas (KC 50,000+ residents). Kansas city Missouri is the second-largest city in Missouri. Kansas City ranks as the 18th-largest metropolitan area and 29th-largest combined statistical area in the United States. Kansas City Missouri is situated along a border colloquially referred to as "The Borderline" between Missouri and Kansas at the confluence of three major rivers: the Missouri River which flows south from Kansas, the Kansas River which flows north from Kansas into Missouri, and the Blue River (Kansas) which runs northeast towards Kansas City before turning to join The Kansas River near downtown.
Kansas City has begun to develop a remarkable tech scene. Kansas City has a growing tech industry with start-ups flourishing everywhere. The Kansas City Startup Village, along with groups such as Kansas City Startup Foundation and Technology Entrepreneur Center, help nurture the ever-increasing number of entrepreneurs who are making Kansas City home to their fledgling businesses. Kansas City has many things going for it: friendly people, an energetic atmosphere, world-class universities like the University of Missouri Kansas City & Washington University in St Louis campus all within commuting distance from downtown Kansas City. All this contributes to a well-educated workforce that is pioneering tech growth in Kansas City.
Kansas City Private Clouds are Fast and Connected
Kansas City likely isn't the first place you think of when you think of an ultra-connected data center hub. Instead, you are likely thinking of coastal cities like San Francisco, Raleigh, or Austin.
But Kansas City unbeknownst to many has quickly become of the most important data center markets in the US. Over 16 data centers are now located in Kansas City, with many more planned. In fact, one of the largest data centers in US history is being built in Kansas City.
Kansas City data centers are secure. Most Kansas City data centers (including ZebraHost's) are Tier III meaning that they have met stringent security standards like HIPAA, PCI, and HITRUST, and are highly redundant. Redundancy includes all infrastructure needed for servers such as cooling and power. And contingency plans are made for getting fuel in case of power outage emergencies.
But you can find Tier III data centers in other markets. The real value of Kansas City lies in its location and fiber-optic network that allows extremely fast connections with low latency for most of the United States. Kansas City is located in the heart of the US. This means your data center will provide a fast, low latency connection between your hosted cloud and most of your users. This is a major benefit over somewhere like California which will only offer optimal latency for the western US.
Kansas City is saturated with fiber optic cable. It was one of the first markets for Google fiber and continues to be a competitive internet market. Fiber optic networks can carry data at 10G/sec, minimizing latency and delivering content to your users faster.
When it comes to your private cloud, ZebraHost offers KVM-powered private clouds with modern hardware. This means that even if your machine is virtualized you will benefit from near bare-metal performance allowing your application or site to run as fast and responsively as possible.
About Kansas City Data Center Growth
Kansas City is currently going through a data center boom, with many calling Kansas City "Data Center Alley." Kansas City's data center growth is in large part to Kansas City Power & Light, who have a new $1.5 billion electrical substation that will provide power for Kansas City's data centers.
Currently, Kansas City is home to over 25 data centers with more being added each year. Datacenter organizations are drawn to Kansas City due to a number of factors, but two of the most relevant include Kansas City's central location and low cost per megawatt-hour.
But the current data centers in Kansas City won't the only ones. Kansas City currently has a data center development pipeline of more than 16 million square feet! And despite its Impressive growth plans, Kansas City still has fewer data centers than comparable markets like San Francisco or Seattle. This means there is a lot of room to grow, so don't expect data center growth to slow down.
Affordable
A rarely discussed advantage of having a cloud in the Midwest is the cost advantage (something you really need to consider when choosing expensive infrastructure like dedicated clouds). It's well known that things cost more in coastal hubs of America, and that includes data centers. Compared to most tech hubs, Kansas City benefits from lower wages, lower fuel costs and more subsidies.
The local government of Missouri actively incentivizes the building of data centers and co-location. Incentives include tax subsidies, labor cost assistance, reduced utility, and equipment subsidies. These subsidies continue to make Kansas City an increasingly competitive market for hosting (Report).
When you choose a ZebraHost private cloud our pricing benefits are of course passed to you. The top reason our clients have told us they continue to seek our services is that ZebraHost offers both premium support and affordability. When you choose a Kansas city private cloud with ZebraHost, you receive premium support with your cloud. Hyperscalers like AWS typically charge thousands for premium support. This provides exceptional value when considering locations for your cloud.
Internet and Infrastructure Pioneer
When choosing a location to sink a significant portion of your digital investment into, scalability should be towards the top of your concerns. Kansas City's internet and infrastructure both contribute to Kansas City's reputation for enabling scalability.
Kansas City is an internet and infrastructure pioneer. Kansas City was the first market to Launch Google fiber. Since then, other providers like AT&T have been forced to add fiber optic internet to their infrastructure in the Kansas City metro. Fiber optic networks have also made their way into Kansas City's data centers which now enjoy some of the fastest speeds in the US.
Specific to data centers, few markets enjoy the number of providers Kansas City has. Kansas City's early adoption of fiber has led to a number of internet carriers in the market. Here are a few of the big data center carriers.
AT&T
Verizon
XO
Cogent
Century Link (Lumen)
Kansas City is home to many internet exchange points (IXPs). These are the crossroads of the internet, allowing several different internet providers to speak with each other and transfer data. A well-known advantage of having access to IXPs is that markets with them typically enjoy lower latency and greater connectivity. A business in Kansas City can transmit data directly to an IXP then to the cables that connect them to the requesting user.
Kansas City participates in projects like LamdaRail and Internet2. Both of these are educational projects administered by universities with the goal of providing low latency connections between universities to share research. Again, Kansas City is involved with these projects because of its massive network of fiber optic cables.
Green
There's a good chance that by now your business has set green goals or explored green initiatives. Whether your goals for green are for marketing purposes, cost savings, or a feeling of personal responsibility, Kansas City private clouds can help you meet your green initiatives.
Kansas City's Midwestern location keeps data centers cool most of the year. Kansas City enjoys an average temperature of 57 degrees. It's cool enough so that servers do not need extra cooling for half the year (you will still need cooling during the hot season during months like July). For greater cooling and temperature control, Kansas City Missouri also houses data centers in limestone caves like the subtropolis. The subtropolis is a massive underground business park built from within a limestone cave. One of the more interesting organizations in the subtropolis is the national archives. A green advantage of limestone caves is that they are natural structures and act as a natural defense against the elements. There are few structures with the integrity of an underground stone cave and the fact that no concrete and steel went into producing the structure defending your data is a huge win for those that prefer green structures.
The state of Missouri has also capitalized on Kansas City's green reputation. Missouri has an initiative known as the "renewable energy portfolio" law that can demand investor-owned utilities in Missouri to get 15% of their renewable energy from utilities. This means that powering your private cloud in Kansas City will allow you to actively support green energy.
Flexible
Configured as either a virtualized or dedicated cloud, ZebraHost Private Clouds are one of the most flexible infrastructure investments you can make. A ZebraHost private cloud allows you to turn your IT infrastructure into an operations expense, allowing you to avoid expensive maintenance and initial It infrastructure investment.
The process for subscribing to a ZebraHost Private Cloud starts with a complimentary consultation where we will extensively review your current infrastructure and application. We will then work with you to choose a plan that will help you meet your goals.
ZebraHost Kansas City Private Clouds support both Windows and Linux. Our hardware and software are agnostic to any application platform you are developing that can be hosted on an on-premises or co-located cloud.
We also defend our client's freedom and recognize that our clients use other services for storage, domains, and more. So we will work with you to sync your services across different solutions allowing you to mix and match across different services to get the most value. Including other hosted solutions!
And if our service hasn't been exceptional, we don't hold your data hostage. Instead of you needing to demand we release your data, we will work with you to move your data to a more compatible solution.
To Summarize
Kansas City didn't become a data center hub by accident. The combination of geography, government initiatives, and early investment in fiber networks has positioned Kansas City to become a prime location to host a private cloud.
If you are interested in a fast, secure environment, you can check out ZebraHost's Kansas city private clouds. We have locations in both Kansas City and Des Moines. Our clouds come both virtualized and as dedicated metal.
If you are interested in learning more about our data centers or exploring our hosted cloud options in greater depth, you can go here to read about our Kansas City data center.