WinDirStat is a popular open-source disk management tool for the Windows operating system. The project has been ongoing since 2003, making it a long-time favorite for Windows users. While WinDirStat doesn't technically do anything that built-in windows programs cannot do, WinDirState centralizes the disk management process with an intuitive visual interface.
Main Advantages to WinDirStat
WinDirStat has been around for a long time and has remained one of the most trusted disk management tools for Windows users. Windirstat has utilities that can help you clean up your disk, visually see how space is used, see file extensions taking up space, and provides an excellent visual file tree structure for locating individual files.
Here are the main features of WinDirStat:
Disk Map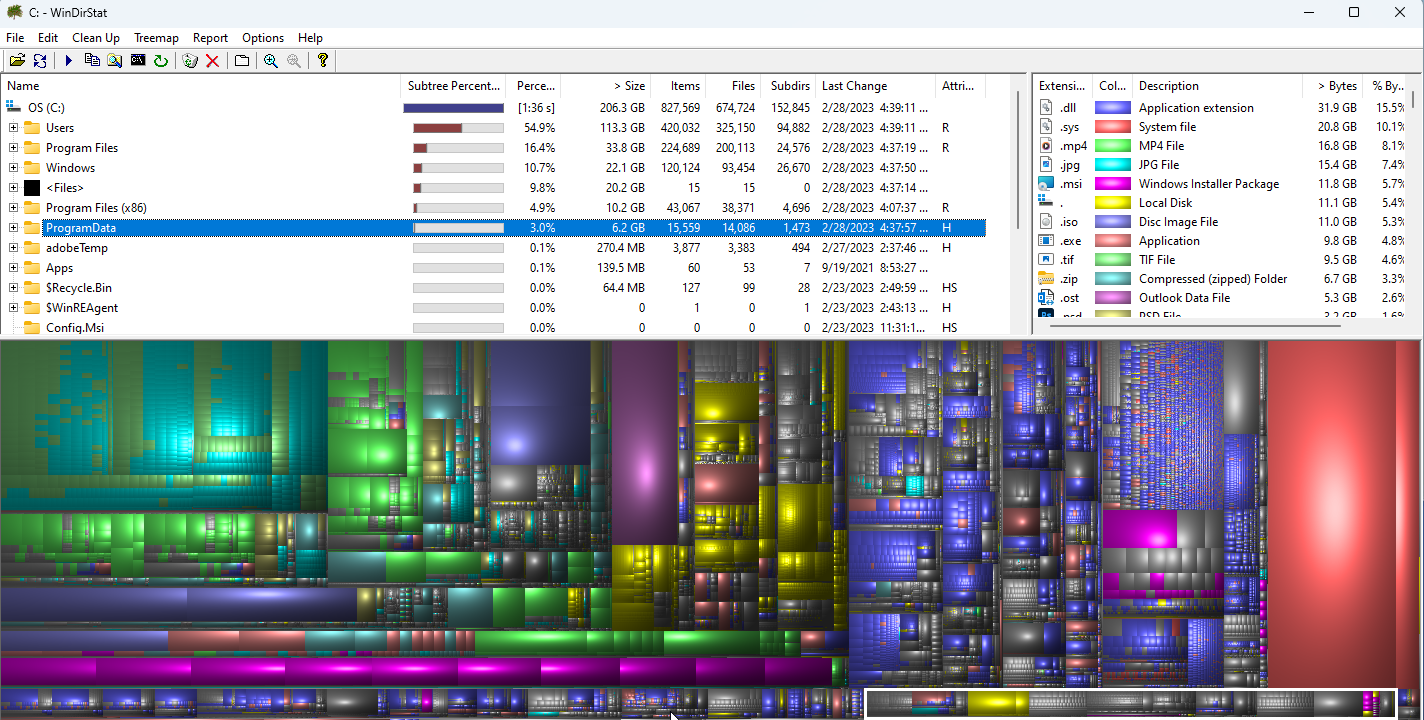 The most famous feature WinDirStat is famous for is its visual on the bottom that shows how much room each type of file is taking on your disk. For example, you are wondering why you only have 10 GB remaining on your system. WinDirState would visually show the 100 GB of HD movies you have sitting on your disk by a large, uniform colored square on the map. Now, you can click the square to be taken to where those files are located and you can manage them from there.
This is a far superior way of discovering files taking up too much room than searching through the default Windows tools, performing a disk scan, then needing to fuss with where those files are actually located.
Folder Structure Tree

WinDirStat has an excellent folder structure tree towards the top that shows you how your folders branch. It makes it very easy to navigate each drive on your machine.
Extension View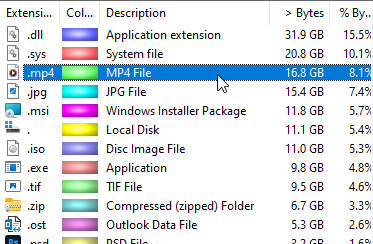 Towards the right, WinDirStat shows how much room each extension is taking on your disk. This can be useful not only for seeing how much room each extension is taking, but making sure all extensions installed are supposed to be there, and that there isn't any malicious extensions hiding out.
Disk Clean Up

You can use WinDirStat to remove most file types by using the "clean up" tool which can be accessed either via the header menu or right clicking on a particular file.
WinDirStat does not have an automatic clean up portion where it will scan for rarely used files or temporary files, but in most cases, you will see the best results intentionally deleting large files you did not know where taking up space.
How to Install WinDirStat
WinDirStat is an entirely free open-source, community supported application. There is no cost to install and use the program on your personal machine.
Step 1: Download the .EXE
You can access a download in a couple of places. Here are two places:
Official website: https://WinDirStat.net/download.html
GitHub: https://github.com/WinDirStat
SourceForge: https://sourceforge.net/projects/WinDirStat/
For most users, the best way to download WinDirStat is going to be to simply download the .exe file available at both SourceForge and the official WinDirState website. But you can optionally build from source.
Also, if you are using Github, there are forks available with their own modifications. Some even have pre-compiled .exe files you can simply download.
Step 2: Installer
The .exe will have an installer that you run through. There shouldn't be anything that requires changing so you can leave everything as default.
Step 3: Select Disk
If your computer has multiple disks you will be asked by WinDirStat to select the disk you want to manage. Select the disk and you are done!
Conclusion:
WinDirStat is an excellent tool for managing your disk on a Windows machine. While Windows has built in disk management tools, they are scattered through different venues and programs. WinDirStat consolidates disk management while providing and excellent, visual user interface that most users will find very intuitive.